This Is The Prettiest Makeup Look We've Seen This Year
Our Instagram feed has blown up in the past week… When J. Lo made a surprise entrance on the Versace runway in her iconic Jungle dress, we died. But among the fashion month craziness, one striking eyeshadow look blessed our screen and we love it more each time we see it. Nicknamed watercolor eyeshadow, the trend, which has been around for a while now, is seeing a resurgence in the makeup world. The look resembles that stunning, ethereal watercolor effect, with either multiple shades being blended together or one shade monochromatically washed across the lid – it's like a work of art but the eyelid is the canvas. And while it may look kinda hard to recreate, don't worry because we've got all the MUA insider tips. Here's how to slay this super pretty eyeshadow look.
How to Perfect The Watercolor Eyeshadow Look
Mario Dedivanovic, Kim K's go-to MUA, has a very simple approach – just add water, which makes total sense! Dip your brush in H20 then apply a light dusting of eyeshadow and sweep it over the lid to create a soft wash of color. Repeat the process with different complementary shades – our Neon eyeshadow palettes work really well with this look. Focus the brush wherever you want to add intensity like the outer edges and the crease. Don't be afraid of working the color, all the way up towards the brows – the stained effect works well on larger areas and as the color is diluted and doesn't look too harsh or bold.
If you're afraid to use water (and this is best for beginners), use a fluffy eyeshadow brush to paint on color and be sure to blend out the edges for a softly diffused look that mimics a watercolor effect.
MUA Val Garland created her own twist on the trend for the Erdem runway, and kept it simple, using one color for a monochromatic look and washing out the edges for a watercolor effect. She told Vogue: "I take a pencil first [Garland used the NARS Moskova Quad eyeshadow palettes] and blend it in, so I have a waxy base. I then use a cotton wool bud to windscreen-wipe across the color, picking up the pigment and pressing it into the eyelid a few times. Because of this lovely dewy skin, I have a bit of fall-out from the eyeshadow which creates a painterly, delicate and beautiful pop of color with a more velvety texture which comes from the application technique. The waxy pencil creates an ombré stain where the pigment from the other color hasn't hit."
If you like the watercolor makeup look as much as we do, here's some major watercolor eyeshadow inspo…
Are you guys going to try watercolor eyeshadow? Let us know in the comments.
'Chemical Burns' May Be Vaping Lung Damage Source
Oct. 3, 2019 -- Lung injuries from vaping probably result from tissue damage caused by noxious chemical fumes, rather than from organic compounds in the lungs, data suggest.
"We were not surprised by what we found, regarding toxicity," Brandon T. Larsen, MD, PhD, a surgical pathologist at the Mayo Clinic in Scottsdale, AZ, and a national expert in lung pathology, says in a news release.
"We have seen a handful of cases, scattered individual cases, over the past 2 years where we've observed the same thing, and now we are seeing a sudden spike in cases. Our study offers the first detailed review of the abnormalities that may be seen in lung biopsies to help clinicians and pathologists make a diagnosis," Larsen says.
To learn more about the vaping-associated lung injuries, Larsen and colleagues studied lung biopsies from 17 patients (13 men; median age, 35 years) who said they vaped and who were suspected of having lung injuries from it. Two of the patients were from the Mayo Clinic, and the others were from elsewhere in the United States. Most (71%) of them vaped with marijuana or cannabis oils.
The findings were published online Oct. 2 in TheNew England Journal of Medicine.
All of the lung biopsy specimens revealed "patterns of acute lung injury," a type of pneumonia, and other problems, the authors say.
The researchers saw no evidence of tissue damage from lipids such as mineral oils, which until now have been a suspected cause of vaping-linked lung injuries.
"While we can't discount the potential role of lipids, we have not seen anything to suggest this is a problem caused by lipid accumulation in the lungs. Instead, it seems to be some kind of direct chemical injury, similar to what one might see with exposures to toxic chemical fumes, poisonous gases and toxic agents," Larsen says in the news release.
More than 800 lung injury cases have been linked to vaping during the past months, and at least 17 patients ihave died. Investigators believe products that contain THC or other cannabis oils such as cannabidiol may be involved.
3 Tips to Keep Your Manicure Chip-Free and Fabulous - Makeup and Beauty Blog
Back in 2008, The New York Times tried to make chipped nails a thing.
Yeah…I'm not about that life. I'm all for purposefully messy hair (fun buns 4 life!), but a messy mani gets a HARD PASS. I'll take my manicures neat and tidy, thank you very much, with a side of "no chips on tips, please."
There are a couple things that make it easier to live a chip-free nail life, like 1) finding a base and top coat that can withstand everyday life (for me, those are currently the Smith & Cult Base Coat and Essie Gel Couture Topcoat) and 2) taking a few preventative measures to lessen the likelihood of chips at the tips of my nails, which is where I always get them first.
Here are three things that help keep my nails looking freshly painted all week long:
1. Don't forget to tip
First, before you paint a layer of polish, paint underneath the tips of your nails, and then run the brush along the tip (holding your nail horizontally, brush the polish on the vertical part of the tip).
Wait about 30 seconds before applying your first legit coat.
Why do this, you might ask? Well, because doing it this way covers your tips in an extra protective layer, so as your nails bang about throughout the week, your tips have an extra layer of armor on them.
Taking this tiny extra step makes all the difference in the world for me. I see fewer chips when I paint my nails.
2. Do a three-day refresh
"Siri, remind me to do another layer of topcoat in three days."
I usually keep the same polish on my nails for a week, and three days is usually the perfect time to freshen up my manis with another topcoat layer.
I mean, you could do one daily, or every other day (I have friends who do that), but if I do too many topcoat layers, it becomes counterproductive because my polish starts to get thick, and then I'm tempted to peel it off when I get out of the shower.
Note: using a good quick-drying topcoat makes you more likely to actually sit down and do this! Sally Hansen has one called the Insta-Dri Top Coat that's only five bucks and sets in a minute, but right now I'm really into Essie Gel Couture Top Coat overall. It's super shiny, and it takes about 10 minutes to dry.
3. Do the double-glove
Before you put a pair of gloves on to do anything — wash dishes, garden, work with power tools — put on a pair of latex gloves first, and slip your real gloves on top.
Yes, this is extra and totally next level, but it'll help your manicure look great longer. Someone in the comments suggested it, and when I'm wearing gloves, I think it does make my polish last longer.
Your friendly neighborhood beauty addict,
Karen
Harvard Health Ad Watch: What you should know about direct-to-consumer ads - Harvard Health Blog
If you're like most people, you've seen a ton of direct-to-consumer (DTC) drug ads in recent years. They're all over television, in magazines, online, on billboards, and slapped on the sides of buses, promoting treatments for arthritis, cancer, heartburn, psoriasis, flagging memory — and more. The deluge of drug ads can be overwhelming. Worse, the information is often incomplete, biased, or confusing. That's why we're launching the Harvard Health Ad Watch series to highlight some benefits and problems with health product advertisements. We'll focus on the evidence behind the ads and show you how — and why — to view them with a skeptical eye.

This post briefly explains direct-to-consumer advertising and FDA regulation, as well as rationales and potential drawbacks for these ads. It also alerts you to words to consider very carefully when advertisers clamor for your attention. In later blogs, we'll analyze some of the most popular health product ads.
How common are DTC ads for health products?
Almost every country in the world bans DTC ads for health products like medications and procedures. Years ago in the US, drug ads were directed primarily at doctors. But in 1997 the FDA eased restrictions to allow pharmaceutical companies to advertise directly to consumers. With restraints lifted, spending on prescription drug ads soared to more than $6 billion a year (and rising).

Do the ads work? Yes, indeed! Estimates suggest drug sales rise by $4 for every dollar spent on advertising. At health care visits, up to a third of patients ask about a drug ad they've seen. The ads have been shown to increase the number of prescriptions written for those products. Does this actually improve patient health? That's far less clear.
The limited role of the FDA in DTC advertising
FDA regulations require that advertising be accurate and promote only approved drugs for approved conditions (called indications). Additionally, ads must state medication risks and ways to get more information. The FDA's goal is to assure prescription drug information is "truthful, balanced, and accurately communicated" — a lofty aim that receives mixed reviews.
The rationale for DTC ads
Advocates often present the ads as a chance to
educate people about conditions and treatments they were unaware of
improve health by encouraging people to take medications they should be taking
raise awareness of possible side effects, because regulations require consumers to be referred to a website, magazine, or other site for more information
lessen stigma surrounding certain conditions, such as erectile dysfunction or constipation
increase detection of unrelated diseases if patients are inspired by DTC ads to see their doctors.
Potential drawbacks to DTC ads
Unfortunately, experience shows that some DTC ads may
present incomplete or biased information
spur people to ask for medications they don't need
promote medications before long-term safety is known. In one case, a new pain relief drug was pulled from the market due to an unexpected rise in heart attacks and strokes — but not before millions of people saw the ad and began taking it.
create conflicts between patients asking for a drug and doctors who don't recommend it
drive up healthcare costs without adding health benefits (new drugs are much more expensive than generic drugs that may do the same job, yet cost is rarely mentioned in the ads).
Advertising words to consider very carefully
Keep this in mind: the main purpose of DTC drug advertising is to sell a product, not educate consumers. The language of drug ads makes that clear. Consider these common examples.
"A leading treatment for this condition." Perhaps, but what if there are only two or three drugs available for that condition? When considering any treatment, it's important to know what the other options are and how they compare — yet it's unlikely this additional information will be mentioned.
"No other treatment has been proven better." This suggests that the advertised drug is great. Yet it might be only as good as — and no better than — older, less expensive, or even over-the-counter competitors. Plus, drug ads are unlikely to mention the option of taking nothing for the condition in question, even though many minor ailments get better on their own.
"In clinical studies, this medication proved more effective than standard treatment." So, how good is standard treatment? If a drug helps only 20% of people with a disease and "standard treatment" helps 15%, the added cost and risk of side effects of the new therapy may not prove worthwhile.
"I don't care about studies… it works for me" or "This drug gave me my life back." The power of the anecdote — one person's story of near-miraculous improvement with a particular treatment — is undeniable. The problem is that studies do matter. Otherwise, we'd all be taking the advice of a proverbial "snake oil salesman" recommending unproven and potentially dangerous drugs because someone said it worked for them. And, of course, in ads promoting drugs or procedures, that "someone" is a paid actor or spokesperson.
"For some, one pill is all you need for 24-hour relief." This sounds good, but how many is "some"? If one in 100 get 24-hour relief, the drug may be less effective than the ad suggests. Also, what does "relief" mean? If a drug reduces pain by 10% for 24 hours, that's a rather modest benefit; a competitor's drug might reduce it by 80% or even 100%. These details are often left out of drug ads.
The bottom line
As an arthritis specialist, I've found patients who ask me about drug ads are often surprised to learn that important information is missing. For example, most of the newest and most effective drugs for rheumatoid arthritis are given by injection under the skin or into a vein, yet many ads for these drugs never mention this!

Also, I think DTC drug advertising has had unexpected costs: these ads tend to "medicalize" everyday aches, pains, and other symptoms while calling for prompt treatment with their medication. For some people, this constant barrage may be terrifying or anxiety-inducing, as if just around the corner there lurks a new deadly or debilitating condition you should hurry to investigate with your doctor.

So, be wary. Even if information in a drug ad can be considered accurate, it may not be thorough, balanced, or unbiased. In the end, it's another instance of buyer beware. Stay tuned.
What donor offspring seek when they do DNA testing - Harvard Health Blog
I wrote previously about parents who fear that their donor-conceived children might uncover long-held secrets through DNA testing. Many were unsettled by Dani Shapiro's memoir Inheritance, which told of how a DNA test done for no particular reason dismantled a family story. Now let's consider reasons why some people who know they were donor-conceived might pursue DNA testing.
Why might people who were donor-conceived seek DNA testing?
Donor-conceived adults who embark upon DNA testing may, like Shapiro, stumble upon information accidentally. Their experience with DNA testing is not explored in this post, which focuses on those whose choice to do testing followed one of these three paths:
They were told their conception story at a young age, but had limited information about their donor and his or her family.
They were only recently told of their donor conception, but grew up knowing something was different or left unspoken (the "unknown known").
As adults, they were completely startled to learn that they were donor-conceived.
What might people hope to learn through DNA testing?
So what might these people seek — and hope to find — in DNA testing? Everyone is different and DNA testers have a wide range of reasons for swabbing their cheeks. Yet most have the desire to better understand their personal story. We all have origin stories that circle around our ancestry, ethnicity, and the circumstances of our conception and birth. Whether they grow up always knowing, or learn of donor conception as young adults, personal stories for the donor-conceived are complicated. Questions people hope to have answered include:
Why did he or she become a donor? Am I simply the product of a transaction, or were there other reasons that motivated someone to donate?
Who else am I related to? This question is especially compelling for sperm donor offspring, who may have large numbers of genetic half-siblings. This is less often true for those conceived from donated eggs, yet there are the donor's children, her nieces and nephews, all those she donated to, and in some instances, children born through embryos donated to other families after the original recipient family was complete.
What is my ethnicity? What does it mean if the ethnicity in my DNA does not match the ethnic identity I was raised with? One woman I spoke with had grown up believing she was Irish on her mother's side and Jewish (Ashkenazi) on her dad's side. When the DNA test results came back indicating she is 100% Irish, she felt a sense of loss. She always felt proud to be half Jewish. Did this mean that she is not?
What abilities and vulnerabilities might I have inherited from the donor? For many, the high beam of this question directs itself to medical issues. This can go both ways: learning one's actual medical history may relieve worries regarding illnesses in the family, or it may bring new medical concerns. Either way, those who are just learning they were donor-conceived as adults have relied on a family medical history that they now know to be only half complete.
Most people feel they came from two people. I came from three. What does this mean for my identity? People conceived with donated eggs are often, though not always, told of the donation from a young age. They grow up always knowing that they are gestationally, but not genetically, connected to their mothers. Part of their task as they mature is sorting out as best they can what it means to literally come from three people. (Sperm donor offspring, by contrast, must reconcile with the fact that they have no physical connection to their fathers.)
What does the future hold?
The world of commercially available DNA testing is still in its infancy. These days it is being heavily marketed in the media as a nifty gift, an interesting tool, a key that will unlock doors. Undoubtedly its uses, and its meaning for all of us, will unfold and evolve over time. The questions it raises and the "answers" it provides are surely more complex and multidimensional for the donor-conceived.
For more information
If you'd like further information and support, you may find these organizations helpful.
Cooling Cardiac Arrest Patients May Mean Better Long-Term Brain Function
WEDNESDAY, Oct. 2, 2019 (HealthDay News) -- Lowering the body temperature in patients resuscitated from cardiac arrest helps a broader group of people than previously believed, a new French study finds.
For cardiac arrest patients with what's called a "nonshockable" rhythm, cooling the body almost doubles the odds they'll have good brain function if they survive, researchers have found.
A nonshockable rhythm means the heart has stopped and there is no electrical activity (asystole) or someone still has electrical activity but there's no blood to pump through the heart (pulseless electrical activity).
"The prognosis for both is similar and terrible," said Dr. John Osborne, an American Heart Association spokesman and director of cardiology at State of the Heart Cardiology in Dallas.
Osborne said cooling ("therapeutic hypothermia") is already used when people are in a coma but had a shockable rhythm because it helps protect brain function. He said the treatment is available in most hospitals. But what hasn't been known is if the treatment would make a difference for people who had nonshockable rhythms.
So nearly 600 people who had a nonshockable rhythm were included in this study. The patients were alive but in a coma when they reached the hospital. Half received medical cooling for 24 hours and the other half received standard care.
"This study showed a very positive effect from this very simple, straightforward approach to therapeutic hypothermia. Half of those who survived had a pretty good neurological outcome, and that's a big advance," Osborne said. He wasn't involved in the research but reviewed the findings.
The researchers cooled patients' bodies to 91.4 degrees Fahrenheit (33 Celsius). Normal body temperature is 98.6 degrees F.
The study's lead author, Dr. Jean Baptiste Lascarrou, said cooling helps to prevent brain damage from a loss of blood flow to the brain.
Lascarrou is from the Centre Hospitalier Universitaire in Nantes, France.
He said challenges involved in administering therapeutic hypothermia include controlling shivering and managing mechanical ventilation (machine breathing).
The average age of those in the study was 67. About two-thirds were male. More than half of the study participants had chronic heart disease and about one-third had chronic lung disease.
Seven Hair Tools To Fix Bad Hair Days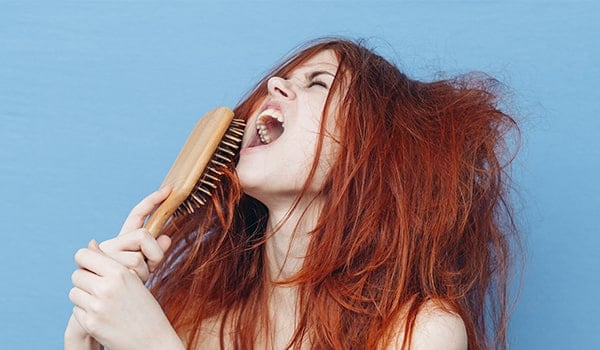 When hair looks like shit, it can ruin even the best of days. But it doesn't have to stop there. You can better things using hair tools. Whether it's a detangling brush or hair dryer, or accessories, we've scoured to bring you the best seven hair tools. Find out more about these solutions to cure your bad hair days for a lifetime.
Seven Tips to Manage Bad Hair Days:
Here are the best answers:
1. Hair Dryer:
Let's face it-we do not have all the time in the morning to style hair. And for days when your hair refuses to budge, you need a quick fix like a hair dryer. The blowout tool is great to detangle, nip frizz, and smoothen hair. All in all, it is a great tool to achieve the cool-girl hairdo in no time.
2. Detangling Hair Brush:
A detangling brush unties knots and hair tangles without pulling hair, thus minimizing damage. These brushes are ideal for dry or wet hair. They are great when your tangles need an extra boost of T.L.C. You may select a brush that features soft nylon features for best use.
3. Flat Iron:
The flat iron is a great tool if your hair is acting up. A good branded one won't damage your precious tresses. You may want to gravitate towards wider straighteners and also cut down on time spent styling your hair.
4. Dry Shampoo:
Using a dry shampoo can instantly boost volume and revive limp hair. A little blast of the product at your roots can instantly add volume while absorbing excess oil. Use it when you wish to refresh hair on a particular crazy hair day or second-day hair.
5. Hair Accessories:
Nothing says, "I am fixing a rough hair day" like hair accessories wrapped around your head. Hair fixtures like bobby pins, head bands, barrettes, etc when worn looks intentional rather than trying to conceal something.
6. Texturizing Spray:
A texturing spray is one of the best products to own because of its multitasking purpose. They do everything from preserving a blowout, boosting volume, and absorbing oil on bad-hair-days. You will be amazed to see how refreshes your hair feels with unbeatable lightness and movability.
7. Microfiber Towels:
Frizz is a common hair problem, and most times unavoidable. Sad, but true! However you can fix the same by replacing your regular towel with microfiber towels. Use these towels to gently squeeze out wet hair. Make sure not to rub the hair as the friction may lead to frizz.
These are the best tools to extend effortless hairstyles for days and have control over your tresses.
Everyday Vitamins You Should Take For Healthy Hair | Skalp
Vitamins You Can Take For Healthy Hair
The reason why most people lose their hair is down to their genes and hormones. But there is only so much we can do to fight our genetic make-up. However, looking after our bodies and eating well can go a long way to help keep our hair in great condition.
Vitamins provide many of the nutrients our hair needs to remain looking vibrant. While a good balanced diet cannot stop hair loss, it can help slow it down. Here are some of the most important vitamins you should include in your daily diet as much as possible.
Vitamin A for A Healthy Scalp
Hair grows faster than any other tissue in our body. Vitamin A plays a key role in ensuring our cells can grow. You can find it in foods such as Kale, carrots, spinach, pumpkin and sweet potatoes. Vitamin A also helps skin glands to produce sebum, which is an oily substance that moisturises the scalp. This goes a long way to keeping your hair looking healthy. However, the intake of too much Vitamin A can lead to hair loss. Vitamin A can also be found in eggs, milk, yoghurt and cod liver oil.
B-Vitamins for Thicker Hair
One of the best known . It helps to prevent hair loss while also keeping your hair thicker and healthier. Biotin is in a wide range of foods such as meat, fish, grains, almonds and leafy greens. Try to include other types of B-vitamins where possible. They play a big role in the creation of red blood cells that carry oxygen to our hair follicles and scalp.
Vitamin C for Boosting Collagen
A good intake of vitamin C helps to protect against free radical damage that can have a negative effect on your hair growth. It acts both as an antioxidant and as a building block to create collagen. This is a protein that plays a vital part in maintaining your hair structure. Not only that, but vitamin C makes it easier for your body to absorb iron, which also aids hair growth. To include it in your diet make sure you are getting plenty of citrus fruits, guavas, peppers and strawberries.
Vitamin D for Healthy Hair Follicles
Those suffering with alopecia are also usually low in vitamin D. Studies have suggested it can help to create new follicles in your scalp to allow new hair to grow. Vitamin D is produced through contact with the sun. It's found in foods like fatty fish, certain types of mushrooms and cod liver oil. If you aren't getting enough you should take in short burst of sun each day. Alternatively, a vitamin D supplement could also help.
Vitamin E for Hair Growth
Vitamin C isn't the only strong antioxidant your body needs. It is widely known that Vitamin E is one of the most important when it comes to hair growth. It plays a fundamental role in allowing your hair and skin to recover. If you need to get it into your diet, foods like avocados, almonds, spinach, broccoli and sunflower seeds are great sources. Supplements are also a good choice. However, as with any supplement, always check with your doctor first as too much of any one vitamin can have a detrimental effect on your health.
Top Related Posts:
Extreme Weight Loss Diet: The Bane Of That Needs To Be Banished - Truweight
There is a misconception among numerous weight loss enthusiasts that following a strict and extreme diet will yield better results. However, many experts have dismissed this myth time and again. 
Fitness enthusiasts and health experts have stressed that losing weight by following an extreme diet is of no use since this method is not only inconsistent but also extremely unhealthy. To make things worse, it is proven that this method had resulted in weight gain when the person reverts back to their old ways. 
Extreme dieting poses a number of dangers to the human body. From making you weak to moody, sluggish, tired, achy and nauseated, its side-effects are endless. Adding to this, when you deprive your body of the essential nutrition in the long run, it can lead to metabolism issues; leave you severely malnourished and even bring life-threatening conditions. This is why it is very important to follow a healthy and well balanced diet.
Table of Content
Extreme Body Dehydration
Fluctuations in Blood Sugar Levels
Muscles Break Down
Slow Metabolism
Malnutrition
Refeeding syndrome
Suffering of Brain
The adverse of the extreme diet on your body can be as follows:
Extreme Body Dehydration 
Your crash diet being a successful one is nothing but an illusion. When you deprive your body of carbohydrates, essential nutrients and much needed calories, body burns the glycogen first and not fats. Glycogen is a carbohydrate stored in muscles and liver with every gram of it containing water. When body takes the stored glycogen to function, it also takes the water leaving the body dehydrated. Extreme weight loss diet can make your body lose its water which can lead to dizziness, nausea, fatigue, and headache. [1].
Fluctuations in Blood Sugar Levels
It is vital to have a constant supply of carbohydrate, fats, and proteins for maintaining the blood sugar and insulin levels. However, people start a crash diet for losing weight quickly. Being on a cleansing or detox diet lead to an influx of high-sugar and low-fibre juice can lead to the rise and drop in blood sugar level that can lead to insulin resistance. For this reason, one should always follow the best diet plan to lose weight healthily.  
Muscles Break Down
When you lose 1% of body weight on a weekly basis by following a slow and steady weight loss plan, the lost weight consists of 75% fat and 25% water and muscle. However, taking an aggressive approach by cutting down calories between 1,000 and 1,200 will result in the body breaking the muscles since it needs the energy to function. 
Moreover, losing weight real quick can lead to the atrophy of the muscles of the heart. Low calorie diets including liquid diets can also lead to ventricular arrhythmias and can even cause death. 
.
Slow Metabolism
Studies have revealed that extreme dieting can result in slow metabolism. Due to fewer muscles, your metabolism is also likely to drop. It means that you are likely to burn fewer calories while exercising. Your metabolism will drop considerably; that you stop losing weight and when you get back to your normal diet, your metabolism will be more sluggish than it was before starting your crash diet.  
The brain tells the body to store fats in order to prevent you from starving to death, thinking that there is a shortage of food. Hence, it leads to the accumulation of fats instead of weight loss. [2]
Malnutrition
Calories are fuel and cutting down too many calories means depriving the body of the essential food needed for its functioning. Stripping of good fats from the body means that the body is not able to get essential fuel for absorbing other vitamins like A, D, E and K. 
However, these vitamins are essential for your body for preventing the disease and inflammation along with supporting gene expression, cognitive ability, immune system function, cell growth, and bone health.
Refeeding syndrome
If you are following an unbalanced or extremely low-calorie diet, abruptly starting your normal diet can lead to a drop in magnesium, phosphorus and potassium levels which can lead to heart failure. It is an extremely lethal condition and is known as refeeding syndrome. It is usually seen in those suffering from anorexia, but it can also occur in those who abruptly cease crash or/and liquid diets. 
Cutting down carbs intake to about 100g per day can lead to breaking down of fatty acids for getting ketones and carbon-containing compounds. Hence extreme dieting can lead to malnutrition. 
Suffering of Brain
Running of the brain on ketones means it is running below its capacity. Hence, a crash diet can adversely affect the functioning of the brain. Such a situation can lead to decreased brain growth and long-term impairments in visual-spatial memory. 
Moreover, any crash diet, even if it contains sufficient amount of carbohydrates helps in increasing the level of stress hormone corticosterone in your brain making you more prone to stress. It will lead to making you more depressed, and you are likely to binge more. Thus it can lead to weight gain instead of weight loss.
Hence, you should follow a healthy diet plan for losing weight wisely. Such a diet plan should have slow and realistic goals for helping you to maintain your ideal weight in the long run. 
Think about a diet which has sufficient amount of carbohydrate, good fats, proteins, vitamins and minerals, as ignoring any essential nutrient can affect overall health. An ideal weight loss plan should work in the long term and help you sustain it. It is important to know that taking baby steps towards your goal is the key.
NEXT READ: