What Is Microdermabrasion and Do You Need It? | My Beauty Bunny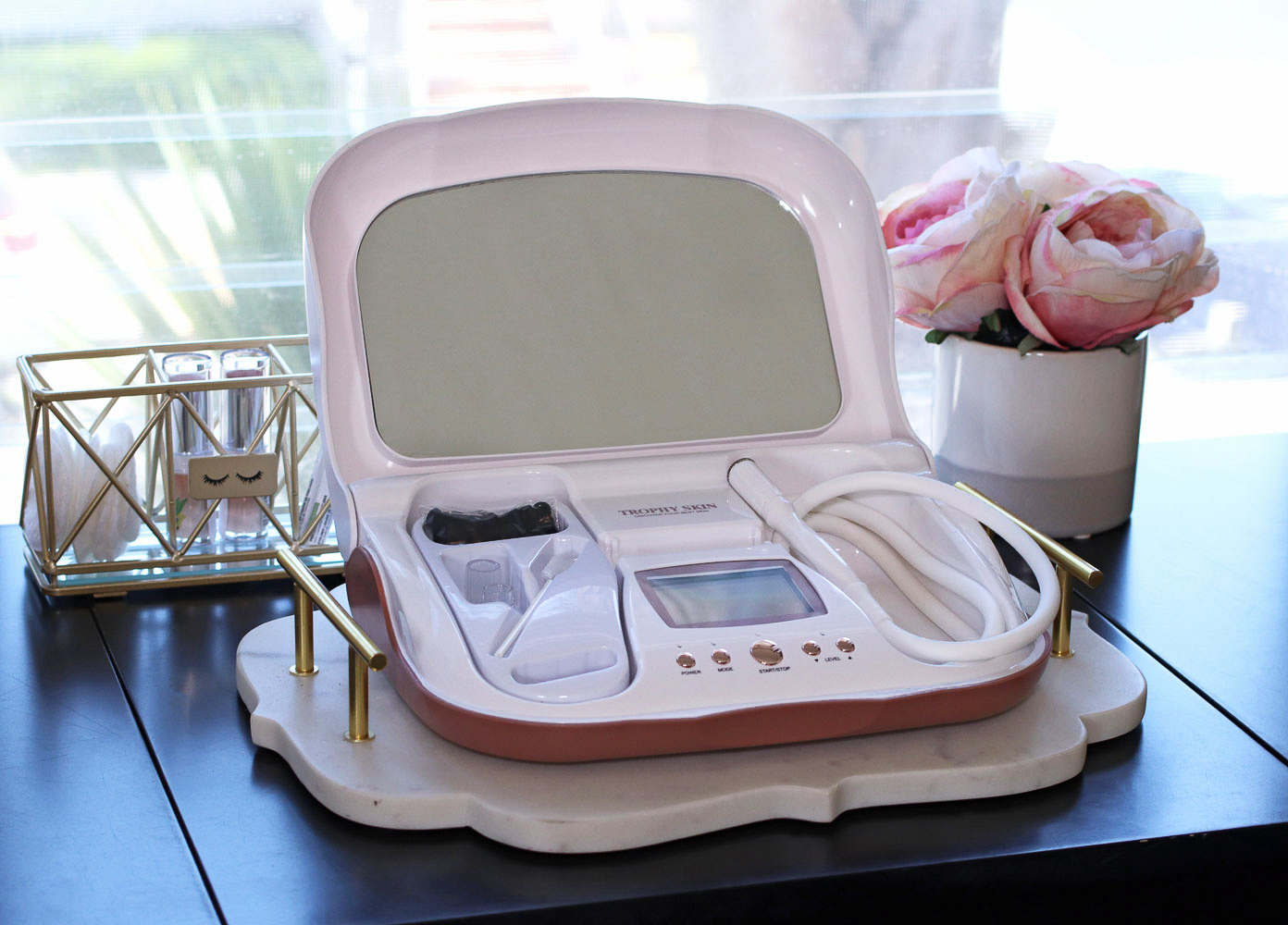 I'm sure you've heard of microdermabrasion – but have you tried it? If you aren't familiar, let me introduce you to one of the best tools for glowing skin! In combination with your everyday routine, microdermabrasion can take your skincare ritual to new heights. This non-painful, no-downtime skin procedure is an excellent way to treat a wide range of skin issues, including (but not limited to):
Acne scars
Dull complexion
Uneven skin tone
Rough skin texture
Age/sun spots – hyperpigmentation
Fine lines
Of course, if you're a "slap on some moisturizer and call it a day" kind of person, microdermabrasion might sound intimidating. I promise you, it's actually a simple, gentle procedure. It's the process of gently removing dead skin cells from the top layer of skin — essentially a deep manual exfoliation.
Microdermbrasion tools work by using crystals or diamond in combination with vacuum suction. The machines have heads (usually coarse, medium, and fine) that rub the skin, removing dead skin cells. The vacuum head then sucks up the skin cells and encourages new cell growth by stimulating blood flow. The end result is radiant, smooth, supple skin – like a baby's bum!
Spas vs At Home Microdermabrasion Treatments
I usually get microdermabrasion treatments when I go for my monthly facial at Verabella in Beverly Hills. There I can get the treatment done by a professional aesthetician who is using professional grade tools. They know what they are doing, so there is no risk of scarring, skin irritation, etc. My skin always glows after a professional microdermabrasion session, and it helps prime the skin for treatments and extractions.
What does microdermabrasion cost? Multiple sessions at a spa can quickly add up, with procedures ranging from $75 to $300 per session (depending on where you live and the skill level of your aesthetician). Fortunately, for those of us who are on a budget, there are affordable microdermabrasion machines available so you can do it at home.
At home, you would need to make a one-time purchase for a machine, ranging from around $99 to $300 (plus the cost of buying replacement parts). This is an investment, but it makes microdermabrasion at home more cost-effective than visiting a spa every month.
You just want to be sure you ALWAYS start on the lowest setting, and watch instructional videos to be sure you know what you're doing. You should stay away from the eye area, and don't over-do treatments. There's always a risk when you use at-home devices, but they are made for non-professionals, and as long as you follow the directions closely, you should be fine. These treatments should be done around once every two weeks. Giving yourself treatments more often can lead to damaged skin. Be sure to be mindful of the condition of your skin before administering treatment.
How To Use a Home Microdermabrasion Machine
I recently got a Trophy Skin MicrodermMD at-home microdermabrasion machine (Trophy Skin sent it to me to try out). It retails for $299, and if that's too rich for your blood, there is also a Mini Microderm for $99, as well as a mid-range version for $199.
To use your machine, you'll want to first wash your skin as you typically do. Just grab your favorite facial wash (preferably an oil-free product), wash your skin, rinse, and pat with a towel, being sure it is completely dry.
The microdermabrasion machines typically have multiple settings and sometimes different heads. The MicrodermMD has one head but several settings. It's best to start with the finest tip or lowest setting, just so that you can get a feel of how to use the machine. Plug it in, choose your settings, and then apply the microderm tip to the skin. Simply hold the device the same way that you do when you're writing, keep your skin taut with one hand and glide it in short, quick outward strokes.
The MicrodermMD has built in programs that tell you how long to spend on each part of the face. You can go over the same area a few times (as long as there's no excessive redness or irritation), being sure to avoid the eyelids and practicing caution around the eye area in general. You'll get better the more that you use the machine. It should not be painful, but you will probably see some temporary redness.
Once you're finished with the machine, turn it off, clean the tip with soap and water, and perhaps a spritz of alcohol mixed with water (and throw away the wool filter). Before you throw it away, take a close look to see all the dead skin and gunk you just removed (yasssssss)! You can then rinse your face to remove any leftover dead skin, and apply a moisturizer.
If you're going outdoors, use sunscreen, as your skin may be more sensitive after the procedure. It's normal to experience redness and mild skin irritation after a treatment, so it's best to plan at home treatments at least a week in advance. Never use the system on irritated skin, rashes, wounds or damaged skin.
I've used it on myself and my husband, and the results were amazing after just one treatment. The MicrodermMD comes with 100 filters, and has three treatment modes: auto, sensitive and manual. The higher suction settings can be used when you get used to the machine, and you can also use them on rough body skin. You can also use the MicrodermMD to perform extractions (pore extraction tip) as well as infusing your serums into your skin (infusion tip). The machine itself forms a case that holds all the attachments, so it's fairly compact and travel-friendly too.
If you can't afford regular spa treatments, doing your own microdermabrasion at home can be a cost-effective way to keep your skin looking and feeling healthy as long as you go slow and follow instructions! Adding this gentle, effective treatment to your regular skincare routine will definitely take your skincare ritual up a notch.